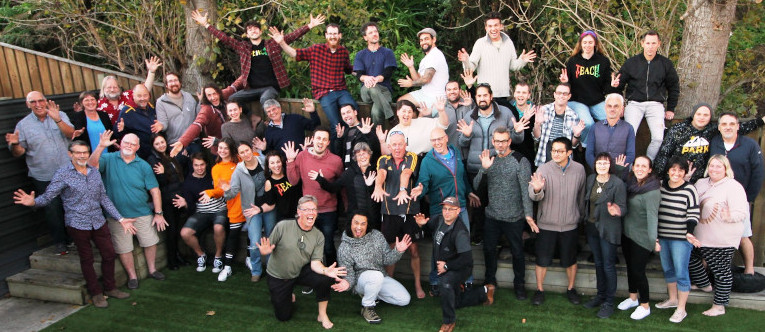 Details

Category: Articles
Tuesday, September 11, 2012 • Alice Te Puni
BLOKES teaching in early childhood education are "rare" which makes Neil Aitkenhead's bachelors graduation especially precious, says Early Childhood Education Centre manager Wendy Ure.
New Zealand has one of the lowest rates of male early childhood teachers in the OECD, at around 1 percent.
This makes early childhood teaching one of the most gender-segregated occupations in the labour force, even more so than firefighters, says Mrs Ure.
Details

Category: Articles
Part One - Close Up debates the need for more male teachers in early childhood learning.
Part Two - Two male preschool teachers in Wellington feature in part two of Close Up's series.
Click links to view the items on TVNZ's website.
Details

Category: Articles
If you live in New Zealand, there is every chance that your child will not have a male teacher until they reach high school.
Startling. But is it important? Education Minister Hon Hekia Parata argues that it is the effectiveness of the teacher, rather than the gender of the teacher, that makes a difference to a child's learning.
A fair claim, perhaps. After all, New Zealand has a stellar reputation for promoting equality between the sexes, particularly as it relates to the workplace. We have women CEOs, women prime ministers, and of course, women principals. We are fairly agreed that there's no difference in the capabilities of the sexes, so is it really important if only 18 per cent of primary school teachers, and just 2% of early childhood education teachers, are male?
Details

Category: Articles
Seiuli Sauni (Faculty of Education, The University of Auckland). Culture – Research
There is a Samoan saying: "O fanau o mea alofa mai le Atua" meaning, our children are gifts from God". According to our history, Samoan men have been responsible for the empowerment and transmission of spiritual and cultural knowledge. This paper will explore the spiritual and cultural status of authority that Samoan men are accustomed to. It draws on the narratives and the findings from a small-scaled research project which explored the perspectives of four Samoan male teachers. The findings suggest there were particular aspects of the church and culture that influenced their involvement in early childhood education. This paper discusses the importance of their roles and responsibilities in maintaining cultural values, spiritual experiences and cultural identities of children in early childhood settings. Furthermore, their views on their children as learners will be considered in this presentation. It concludes with a discussion about the need for more male educators and implications of their roles in the holistic development in early childhood settings.
Read more: Children are gifts from God: Samoan male teacher perspectives
Regional Chapters
EC-MENz regional chapters and associated contacts can be found here.
If your region is not represented and you would like to become a co-ordinator for the chapter please contact us.

Regional Events
There are no events as of date.