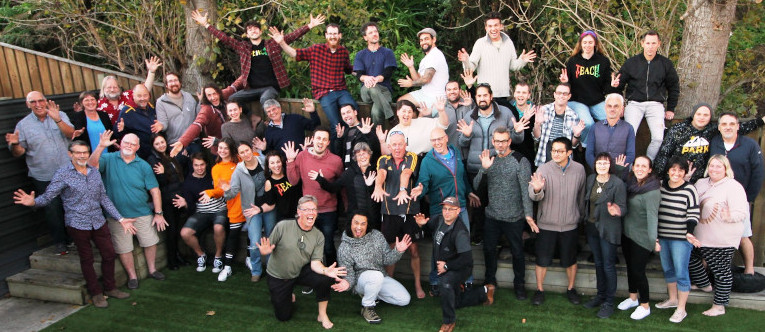 Details

Category: Articles
Tuesday, September 11, 2012 • Alice Te Puni
BLOKES teaching in early childhood education are "rare" which makes Neil Aitkenhead's bachelors graduation especially precious, says Early Childhood Education Centre manager Wendy Ure.
New Zealand has one of the lowest rates of male early childhood teachers in the OECD, at around 1 percent.
This makes early childhood teaching one of the most gender-segregated occupations in the labour force, even more so than firefighters, says Mrs Ure.
Details

Category: Articles
Part One - Close Up debates the need for more male teachers in early childhood learning.
Part Two - Two male preschool teachers in Wellington feature in part two of Close Up's series.
Click links to view the items on TVNZ's website.
Details

Category: Articles
If you live in New Zealand, there is every chance that your child will not have a male teacher until they reach high school.
Startling. But is it important? Education Minister Hon Hekia Parata argues that it is the effectiveness of the teacher, rather than the gender of the teacher, that makes a difference to a child's learning.
A fair claim, perhaps. After all, New Zealand has a stellar reputation for promoting equality between the sexes, particularly as it relates to the workplace. We have women CEOs, women prime ministers, and of course, women principals. We are fairly agreed that there's no difference in the capabilities of the sexes, so is it really important if only 18 per cent of primary school teachers, and just 2% of early childhood education teachers, are male?
Summit 2021
We are excited to announce that the 2021 EC-Menz Summit in Ōtautahi (Christchurch) on Saturday, June 12 will feature an amazing lineup of speakers drawn from across the early childhood sector. As an example, please check out this presentation abstract. We will be announcing more about the full programme as the event draws closer, so stay tuned!
For more information, and to register, please contact robin@childspace.nz or register through our contact form.
Regional Chapters
EC-MENz regional chapters and associated contacts can be found here.
If your region is not represented and you would like to become a co-ordinator for the chapter please contact us.

Regional Events
There are no events as of date.