EC-MENz National Summit 2023
The EC-MENz National Summit for 2023 will be held on NOVEMBER 4-5 at Educare Tamahere (near Cambridge).
We will be announcing more about the full programme as the event draws closer, so stay tuned!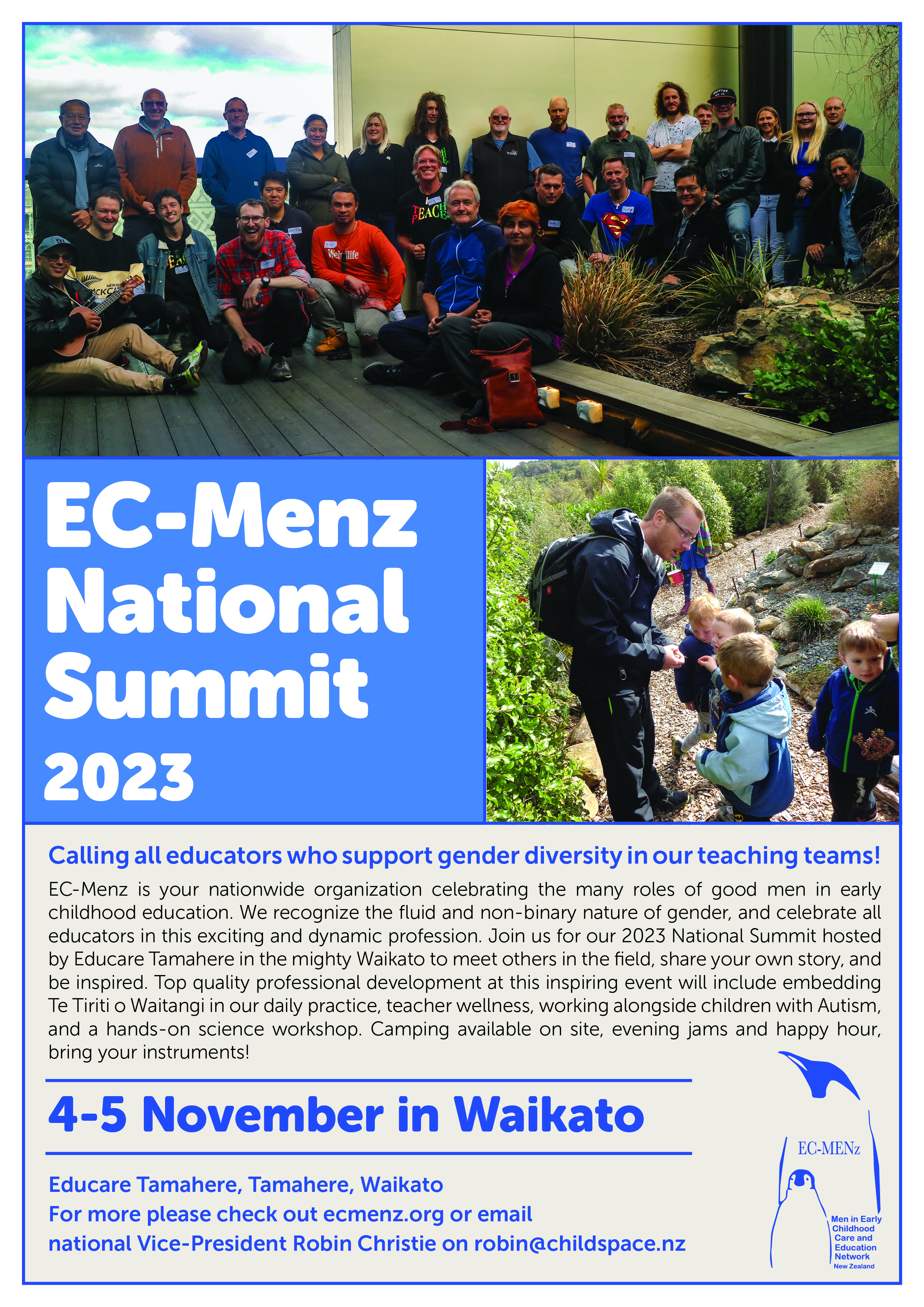 Cost $130 (includes membership to EC-MENz for the year).
Student cost $60
Some of our speakers and workshops:
- Zane McCarthy - Implementation & revitalization of te ao Māori & te reo Māori within ECE settings
Te Tiriti o Waitangi is embedded in Our Code and Standards, but how does this look in practice? Are we being genuine and authentic in our commitments to support whānau and tamariki Māori, as well as our part to play in Māori revitalisation?

In my kōrero, I will share my experiences and challenges, as well as offer some strategies for you to take back to your settings.
- Karin & Bill Shaw
This workshop will be presented by Bill Shaw a psychologist and tutor and Karin Shaw an experienced ECE Professional Development Facilitator. They have a particular interest in teacher wellness.
When a centre/ kindergarten teaching team feel depleted, children also feel the impact. As educators we need to surround children with high- quality caring, safe environments that nurture the holistic nature of children's learning.
The pandemic and lockdowns have impacted on teacher and children wellbeing. Teachers are burnt out and over whelmed. They are dealing with a raft of changes, teaching, legislative, and compliance requirements. Teachers need practical support in order to bring their best self to the centre/ kindergarten each day. Karin and Bill will share discuss the tools, support, and guidance teachers require to be mentally and physically able to do their job. Tools to ensure everyone thrives.
- Stephanie Wacker (The MacKenzie Centre) - Working with children with autism
A little bit about me, I am an Early Intervention Teacher and the current Service Manager. I have been with McKenzie Centre for 16 ½ years, 9½ as an Early Intervention Teacher and 7 years as an Education Support Worker and Teacher. I have a son who required special education which led me on a journey into the world of children with special needs from 2013. I am passionate about helping families and educators to understand their child's development and look forward to extending the groups knowledge of McKenzie Centre's service.
- Mark Smith - Fun with Science
Tired of being bored sitting in the sandpit? Come along for a fun time and discover the magic that is science, specifically tailored for pre-schoolers. You'll develop great new skills that you can easily share with the children in your care.
Take a ride on a tea-bag rocket to the moon for green cheese, or have a ball exploding a sandwich bag! You'll even learn a new recipe for a volcano that is sure to delight everyone, along with the odd magic trick or two.
Come along and challenge yourself as you develop new skills to engage tamariki and make their time with you memorable, in this fun, hands-on, interactive workshop.
- Lewis Morgan
I've been a storyteller for 30 years, I've worked in ECE for around 25 years, and I do have to say that being a male teacher is definitely a rarity (although not quite as uncommon as it used to be). I think males in ECE bring a different dynamic to centres, and it's a pity that more men don't consider this as a career as it is one of the most creative teaching spaces you can work in.
I've also worked in mental health and youth justice, and I can see how our lack of success in the early years of the life of a child can set people up for failure.

Summit Reports