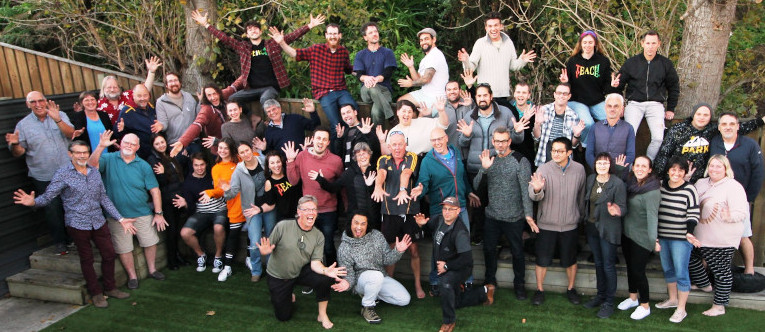 Details

Category: Articles
Kia ora e te kaupapa whānau to the recent EC-Menz Wellington hui participants – what an inspiring day! A collection of nearly fifty men and women from across the sector gathered at the Childspace Workshop in beautiful Ōhāriu Valley to exchange ideas and celebrate the many roles of good men in early childhood education.
Details

Category: Articles
The EC-MENz (Victoria University of Wellington) students network recently attended the Taita College careers day to share the joy of working and learning alongside young children. Josh Allen and Derek Lealiifano are talented young teachers and students in the Victoria University B. Ed. (ECE) programme.
Who better to inspire the next generation of teachers! Armed with ready smiles, the new EC-Menz brochures, a rugby ball and a bucket of bubble 'juice', Josh and Derek engaged students from all backgrounds with their friendly and approachable manner.
Ngā mihi maioha, e hoa mā, mahi pai!
Details

Category: Articles
EC-MENz is your nationwide network supporting the many roles of men in early childhood education in Aotearoa. We are very excited to be extending a warm welcome to you all to join us at our professional development hui. Held at the legendary Childspace Workshop, this half-day Saturday format is perfect for teachers and students, with a wide-ranging, quick-fire format presented by quality speakers who are experts in their respective fields.
Details

Category: Articles
VUW EC-Menz is a study/support group for the promotion of men in early childhood. Men are vastly under-represented in early childhood education and VUW EC-Menz will provide a platform for males and females to celebrate men in early childhood and share their experiences in ECE teaching.
Our overall goal is to promote early childhood education to men and provide support for those already studying. We will meet once a month with the first meeting to commence at 2.15pm, Friday 16 March in room AM 103. All students welcome.
Contact: Max on 027 522 7041 or Josh on 022 678 1611.
Download our poster

Details

Category: Articles
Tēnā koutou e te kaupapa whānau,
The huge success of the four EC-Menz regional hui across Aotearoa has created a wonderful new platform for high-quality, relevant, and affordable professional development for our early childhood sector. Welcoming men and women in all roles across the early education field, these short-day events are sure to become even more popular as time goes on.
The Wellington regional hui was held at the Childspace Workshop, where nearly thirty men and women (and one particularly cool three-year-old) engaged in a fantastic day of quality professional learning. While a workshop may seem a strange choice of venue for early childhood teachers, much of the feedback mentioned this as a very positive element! We were surrounded by ECE environment projects in various stages of development, including tapa-inspired coloured Perspex sandpit windows, giant musical instruments created from upcycled materials, and an experimental ropes course known as 'Dopamine Forest'.