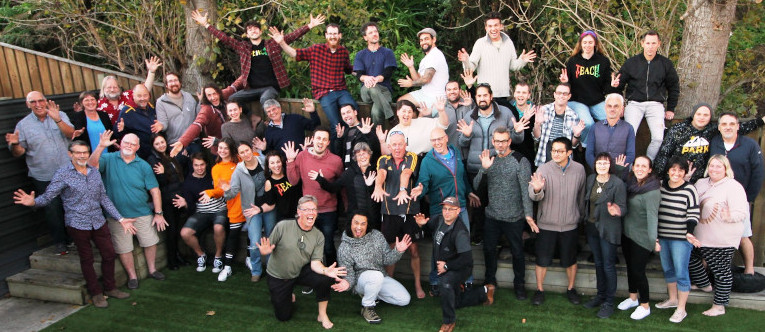 Details

Category: Summits
Report on the EC- Menz Summit held at Gems Shotover Country
16 to 18 March 2018
Friday 16 March
The conference began with kai, followed by the famous EC-MENz AGM. Again it was a most fabulous occasion with the report on events for 2017 being tabled along with the financials being presented.
An offer was received for the 2019 Summit to be hosted in Whanganui on the weekend of 17, 18, 19 May which was dutifully accepted. The meeting closed at 8.27 pm and the group adjourned to network and connect.
Saturday 17th March
The morning began with a session led by Karen Hayward (from Interlead) Titled "Getting Wired – Knowing your "Why" to up your motivation and Growing your resilience to thrive as a professional.
This was a fascinating session in which we were challenged to look at why we do what we do and how to keep the motivation to make a difference every day. The were to maximise the success of every learner is a big task and depends greatly on our shoulders as teachers. Karen highlighted recent stats that suggested more than 60% of New Zealand employees were not engaged in their work while another 15% were deemed to be totally disengaged. She then went on to discuss forms of motivation and how important Intrinsic Motivation is to drive our behaviour – with a strong connection to the "Tom Sawyer" effect where you turn work into play. Intrinsic behaviour also promotes greater physical and mental well being.
But to be Motivated Intrinsically teachers need Autonomy, Mastery, and Purpose
Autonomy is the desire to direct our own lives and it is acting with choice and Karen related that teachers need autonomy over Task, Time, Technique and from the team. If teachers have autonomy this has a powerful affect on performance and attitude and leads to engagement. If engaged then more likely to seek Mastery.
Mastery is defined as the urge to get better and better at something that matters. For Mastery to occur teachers need an inquiring mind, a willingness to experiment, to be open to finding fresh solutions and need to "be in the flow"- living in the moment, utterly in control and engaged. Karen also highlighted the need to find Goldilocks tasks which are defined as challenges not too hot and not too cold. She explained that if what staff must do exceeds their capabilities the result is anxiety and when the must do's fall short of their capabilities they get bored. So this balance is very important in ensuring our teachers remain motivated and excited by their work – not over nor underwhelmed.
She defined Purpose as the yearning to do something that matters and doing it well. Being a professional with purpose is "doing the things you love to do, on the days you don't feel like doing them" Julius Erving.
Karen said those who that have purpose set goals – which are learning based not performance based. They choose their words carefully and talk of we rather than they and at the end of each day ask "was I better today than Yesterday".
The next part of Karen's session was built around resilience and the impact change has on us.
Resilience was defined as "The ability to absorb high levels of disruptive change while displaying minimal dysfunctional behaviour" Daryl Connor.
Resilient people are not immune to change and are still impacted by it. Being resilient appears to result in the change not damaging them as much as others and they are able to see more opportunities than dangers in the turbulence of their environment.
They bounce back rather than become victims of change, The are able to maintain their physical and emotional health, they continue to achieve and their quality and productivity remain high. They remain more optimistic and are much calmer in periods of instability. In other words, resilient people tend to be optimistic and are more likely to view change as an opportunity whereas inflexible people tend to be pessimistic and view change as a danger.
The problem with danger orientated people is that they see change as a threat and can often feel victimised. Often they lack a strong sense of vision and purpose for their lives and struggle to re-orientate themselves when disruption happens. They have an either/or view of life and don't cope with ambiguity or the grey aspects of life. They feel insecure in themselves and their ability to manage change. They are often reactive and blame others for the problems caused by change and they can be immobilised and react with fear denial and complacency.
Whereas opportunity orientated people view challenge as a natural part of life and can come to view it as an opportunity or advantage, they expect confusion and use their strong life vision to guide them through this. They see disruptions and problems as being a part of life and minimise negative events and its impact on their lives. They don't invest time in an effort trying to change what they cant and are creative in overcoming obstacles. These people are just as vulnerable as the danger orientated people but the difference is in how they react to the dangers/challenges as they meet them.
By looking at motivation and resilience, this helped set the benchmark for performance as a professional in a rapidly changing world. Karen has a really simple model of professionalism in which she had a line and put the motivation and resilient attributes above it and said we must always aim to keep above the line – this is what professionalism is. We are naturally wired to go below the line and seek safety but we must be strong to keep in focus and at the end of each day ask ourselves "was I better today than yesterday?".
The next session was led by Morgan, one of the staff at Gems Shotover country, recapping her journey that has led to their very own Forest School weekly session that is presently offered by their centre. This was a journey that began on a farm down south by Colac Bay, a teaching degree and experience in a London School and a bad Ofsted (English equivalent of ERO) report.
As a result of the bad report, a new programme was designed including the need for transformation of the outdoor area. After uninspiring designs by the professional designers, she spent time designing and improving the outdoor learning environment firstly in her home school, in the North East of London, and then in a neighbouring school. Within ten months the report was turned around and they went from a school needing special measures to one with a judgment of outstanding.
This was a good lesson in the importance of a quality outdoor environment that allowed children to test themselves. Whilst in England she completed papers on forest schools and when it was time to return home, a call from her former employer with the plan for a forest session was enough to bring her back to the future.
Morgan discussed the challenges of setting up the forest school and shared the many ideas she has gathered including the importance of looking for positives and focussing on the benefits as opposed to always looking at the risks. That is not to say that risks shouldn't be considered – of course they are important but sometimes she considers the emphasis is heavily weighted on the dangers rather than the advantages. If we turn that emphasis around then the focus being on the benefits makes it a much more important learning experience.
Morgan then shared her paper forms to explain what they do to prepare and to ensure that risk is effectively planned for.
After this session, it was then up the hill behind the centre. This is a most wonderful hill that is on one side of the flight path of the aeroplanes landing in Queenstown. The 4 year olds at Gems climb this as a rite of passage and some of us older ones took their time to take in the sights as we meandered to the top.(There was a suggestion that there could be a café half way but no….that was local folklore and very disappointing …. however referring back to the previous session it was a wonderful motivation to keep going and pure resilience managed the ensuing disappointment!!!!) This was a wonderful and memorable way to finish the day.
A barbecue dinner again at night and time for more connection.
Sunday morning began with a discussion on strategies on how to promote Early Childhood as a great career option for men and these will be utilised throughout the year.
Details

Category: Summits
Message from Russell Ballantyne, EC-MENz President
We had 44 men attend our EC-MENz summit – which was held at Karaka Learning Centre in May of this year. This is an annual event and the only time where males outnumber the females in any early childhood event.

Every time I come away from this event, I am even more convinced that our sector is losing something very valuable by not having more male teachers. I have seen so many talented, fun loving individuals sharing their teaching stories of endeavour and adventure. I have heard so many stories of the differing pathways taken and the life skills accumulated which cloak these men in the way they express and deliver the learning experiences they bring into our centres.

The men who come to our summits revel in the company of others. They enjoy the male connection and that is why we structure games and down time to ensure participants have an opportunity to talk and share stories. We do this because the men working in ece are isolated. We know from research that men tend to stay in the sector if they are supported by other men. That means that men are in undergraduate classes, male trainees are posted with male associates and there are men in the same centre. With this they feel less isolated and are more likely to discuss issues and occurrences with those that are less likely to judge them. Most men, feel they have to justify why they want to work in ece in an effort to get approval from the gatekeepers – our women. This is something that most women don't have to worry about but is a barrier to participation for our men. Our men need the approval of our women as historically it's their turf and they own it.
This is the reality of a sector in which gender exclusion has been so dominant that it has become the norm and to think differently to this takes a much greater level of understanding that has yet to happen. I have been told by some in positions of influence that "we are over gender issues now – that was so much the '90s"(in reference to the girls can do anything campaign). But in reality we are not – because things in ece are no different now than they were in the 90's (still 2% male teachers). Let's be honest, whilst women have made some gains there are still large disparities between male/female wages and participation rates in many industries. We can talk about Company Directors and many glass ceilings yet to be broken by females. Gender issues are still there and we need to do more to change this. But we need to look in our garden too.
Jan Peeters(2007) supports the construct that early childhood education historically is seen as womens work and that as such the workforce constantly "reproduces its own patterns in recruitment and training(pg 17"). So in short the status quo perpetuates the status quo and unless something drastic happens to challenge this, it will remain so. I have really engaged with Camerons(2006) call for more critical reflection in early childhood services on men's roles and experiences. This will help define the issues and really focus in depth on what are the processes and messages that are preventing more men from considering early childhood as a legitimate career. In 1999 Cameron, Moss and Owen pointed out that the solution to seeing working with young children as women's work was ensuring the visibility of men and women, both as categories and in their infinite variety. There is the fear that as long as we have so few men there will be the expectations that they will be expected to do "mens" roles – which will be very stereotypical and limited. To guard against this it is important to get more men in their infinite variety so that our children will see that men can fulfil a wide range of tasks and skills – something each of our annual summits illustrate beautifully. So if we can achieve a greater participation rate for male teachers in our sector it's clearly a win/win for gender constraints – women are not bound to the nursery and men can move away from the tool bench…..magic!!!!
References:
Cameron , C , Moss, P, &Owen, C (1999), Men In the Nursery: gender and Caring work, London, Paul Chapman
Cameron, C (2006 ) "Men in the Nursery Revisited: Issues of male workers and professionalism" in Contemporary Issues in Early Childhood, Vol 7, Number 1
Peters, J ( 2007) "Including Men In Early Childhood Education: Insights from the European Experience" in New Zealand
Research in Early Childhood Education Vol 10
About the author
Russell Ballantyne is President of EC MENz and has been teaching in ECE since 1983. He's worked in a variety of roles, kindergarten teacher, head teacher, Senior teacher, General Manager and Visiting lecturer and is now a Centre Owner/Teacher at Early Childhood on Stafford in Dunedin. Russell has a strong passion about children experiencing gender diversity daily.
---
Summit report details compiled by Cyrus Taraporvala, EC-MENz Committee Member
The summit this year was held at Karaka Learning Centre in the Auckland region. The next one, will be in Queenstown in March 2018. Russell Ballantyne, the President of EC-MENz, opened the summit with a short address and presented the Adam Buckingham Award to Sarah Alexander of ChildForum as a recognition of her continuing support towards the need for more men in early childhood education. It was also brought to our attention that Sarah had highlighted the fact that around 2% of teaching staff were men and that she wanted the Government to introduce policy to attract more men into the profession. The response from the Ministry was that, "It has been confirmed by the Human Rights Commission that we cannot discriminate through affirmative action or by providing scholarships on the basis of gender, because men are not a disadvantaged group" (Source: Laura Dooney 2016, Stuff Education article). Apparently, it was discovered later that the Ministry had not confirmed this matter with the Human Rights Commission at all!
A forum was held to discuss strategies at the work place to help tamariki settle down, tidy up, and manage behaviour. Participants offered a number of suggestions that included singing, negotiation, modelling appropriate behaviour and offering a sense of responsibility. Other suggestions included the importance of predictable routine, yoga sessions, storytelling, and, especially for children on the autistic spectrum, puppets as a prop. The conclusion was that most importantly there must be an element of humour and playfulness.
Before the next session Robin Christie of Childspace enlightened us on how to make a tree with six sheets of newspaper. This was an interesting session as all of us attempted to create these paper trees. I'm sure it will be great making these alongside children in the work place. Robin's energy and laughter made this short workshop fun, which highlighted the conclusion of the previous forum to suggest that there must be humour and playfulness in activities with tamariki.
The next session was held by two international speakers who were visiting Auckland to attend the World Forum. Ron Blatz from Winnipeg, Canada, and Jerry Parr from Houston, Texas. Ron presented Russell with a woven pendant made by a native American Indian. This pendant had a bear claw, which symbolised courage, strength, and leadership. He opened the address by stating that gender balance was good for children in early childhood settings. His observation was that male staff are involved in playfulness and like to have fun, whereas female staff are more involved with relationships with children. Ron also said that at his early learning centre in Winnipeg he employed young and older staff, both male and female, to offer that balance for children. Based on his observations over the years, Ron suggested that male role models for boys are very important.
Ron also discussed the content of a book titled 'Essential Touch' by Francis Carlson. She stated that children who experienced touch in their early years were less aggressive when they got older than those who had not experienced touch. Apparently Francis stated that in her studies she noticed that when males were present there was a higher level of touch through rough and tumble play, play fighting, and so on. Ron mentioned that at his centre they had a written policy that mentions the benefits of men touching children and that some children respond to men and some to women. There must be that diversity offered to children during this developmental stage.
Jerry Parr complimented EC-MENz on their effort to promote and support men in early childhood in New Zealand. Jerry spoke about his experience with children during their early years at Harvard and his work with Head Start, a program of the US government that provides early childhood education, health, nutrition, and parent involvement services to low-income children and their families. He mentioned that the programme is funded and received tremendous assistance during the Obama presidency, as he was an advocate for early childhood education.
A discussion was held around strategies to get more men into the workforce and Ron suggested targeted advertising that worked, something on the lines of, "Looking for a few good men to work in childcare. Research shows us that gender balance is important in ECE". There was also evidence to suggest that two men in the workplace offered support to each other and he suggested that women should be invited to discussions as they are the gatekeepers for employment in the sector.
David Wright, from Karaka Learning Centre, was the next speaker and talked about how presentation and delivery to children was so important. He also emphasised the fun aspect and suggested that children will be attentive if you can make them laugh. He thought that teaching through story, puppets, sounds, and action was important in the context of delivery towards children's learning.
The day ended with a final discussion forum on how to promote ECE in schools, how to encourage younger men into the profession, and mentor programmes. In conclusion, I really enjoyed this summit as it was quite laid back and relaxed. The sessions weren't too hurried and intense, as they were filled with laughter and fun. From a personal perspective, the day offered me support as I met other male teachers in similar working environments. I didn't feel alone and isolated, a feeling that can creep in sometimes when working alongside all female staff in the workplace. Gender balance is so important to role model for children and the question remains, how do we get more male teachers in ECE?
Details

Category: Summits
The 10th Annual EC-MENz Summit was held on 8th & 9th April 2016 at BTI (Bethlehem Tertiary Institute), Bay of Plenty

Celebrating the many roles of men in ECE

2016 Summit Report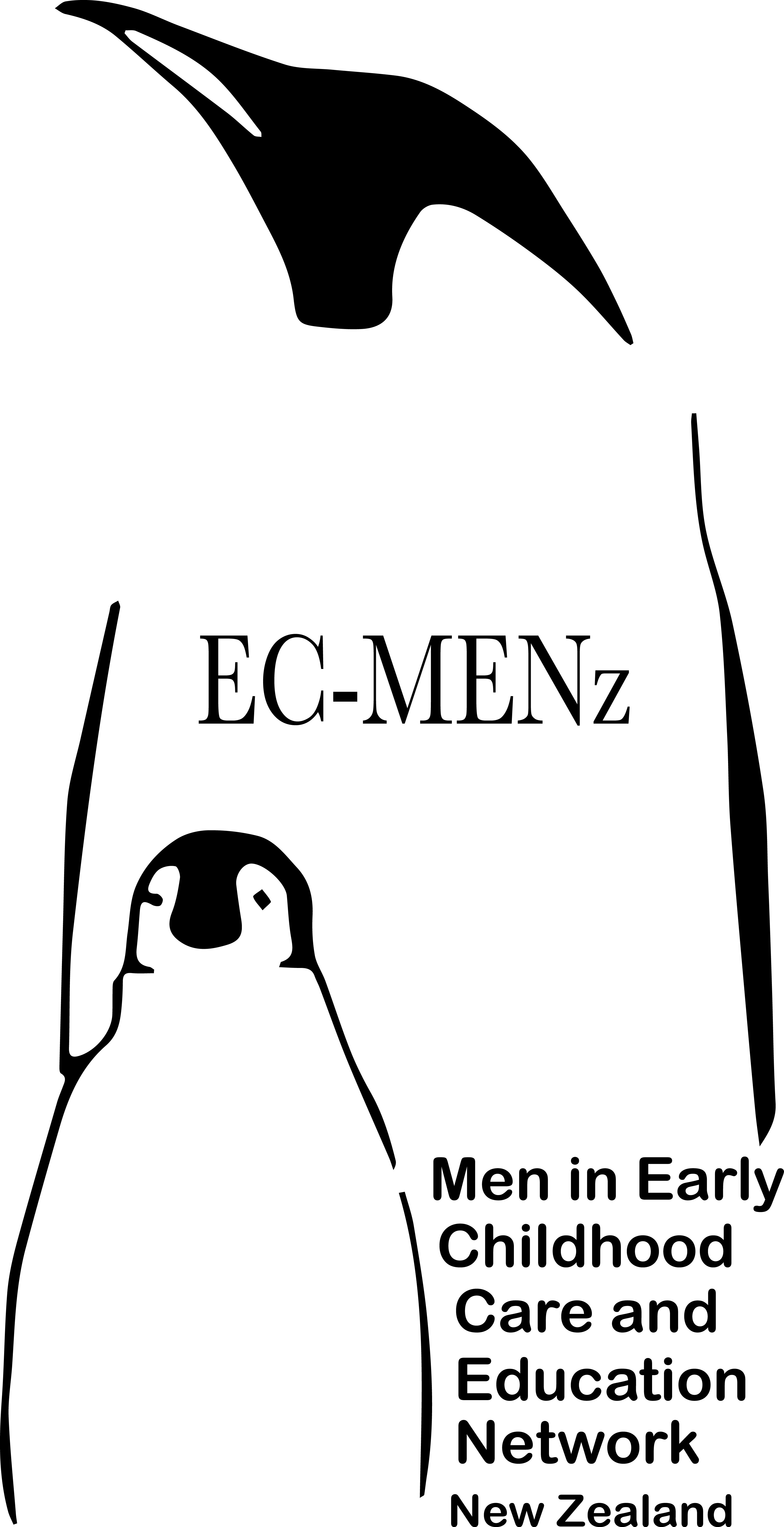 The following presentations at the Summit can be viewed as PDF

Common Ground: A place for men in the early years. A presentation by Craig d'Arcy.
"It's all sorted now isn't it?" Enactment of gender equity in the NZ teacher-led early education sector. A presentation by Maggie Lyall, Te Whiringa: School of Leadership and Policy, Faculty of Education.
Stepping out of isolation. Supporting males in Early Childhood Education through the MENtor programme. A presentation by Martyn Mills-Bayne, Lecturer at University of South Australia, Coordinator of the MENtor program for males in ECE.
The Bay of Plenty Polytechnic Early Childhood Education Centre's Virtues based programme. Is this supporting children's transition into school learning? A presentation by Helena Winter and Bron Griffiths.
Details

Category: Summits
7th Summit Report
 7th ECMENZ Summit 
This years 2013 ecmenz summit was hosted by Albert Samuel and his family and community at the Cook Island Centre, Flaxmere in Hastings. The Summit began officially on Saturday morning with a very warm Cook Island welcome by our hosts.
Adam Buckingham, ECMENZ president, delivered his opening address for the two day gathering celebrating the successes i.e. face book, the creation of an ECmenz brochure, two newsletters, the strategic plan, Sarah s Farquar nation wide research and the increase in mens participation in NZ ECE. However he also reminded us of the decrease of men attending of regional networks, the decrease in ECMenz  member ship and the need to build a united pathway to achieve our goals.
The AGM for the organisation of ECMENZ was held at the beginning of this years summit with the election of officers, committee members. There were no changes to existing structure of the ECMENZ committee. Peter Visser then presented the ECMenz Strategic Plan with the new Vision and Mission statements. The existing six goals as presented on the website have now been reduced to three clear goals. The objectives under each of the goals were also looked at in more detail. Peter will finalise these with out comes.
This year's key note speaker, the founder of ECMENZ, Sarah Farquar, began her address with a brief history of her early involvement with the issue of the lack of men in ECE. She told us of how an interview with Kim Hill on National Radio lead to a snow ball effect of public interest in this issue. She then organised the first national meeting of men working  in ECE Christchurch giving it the unique title of a mens summit. She presented the latest national statistics celebrating the fact that we have now gone over the 2% threshold with 49 more men working in ECE . Sarahs nation wide e-survey showed that centres and staff do want more men and are willing to look at ways to achieve this. Throughout her address she put forward the idea that the concern we needed to present to the government and New Zealand people was the lack of gender diversity of those working in ECE and that a more diverse work force in ECE was linked to increased learning for children.
The second part of her address focused on the knowledge she gained from her invitation to be a presenter at a Men in ECE conference in Berlin. Some of the ideas she gained from this conference were:
Recognising that there are people who are interested in advocating for more men in ECE
The need to be able to persist through obstacles
Needing the cooperation of women
Providers needed to be involved  and invited
The need to be political to make change
The Government needs a target figure to achieve
Having more publicity campaigns
Looking at the obstacles for men participating in ECE and putting forward a range of masculinities.
Looking at boys in education
Targeting groups of ECE centres  and having pilot programmes for men
Look at the research project created in Germany
Having a coordination service that is able to field calls about training for men from services and providing PDL
Publicity campaigns e.g.  t-shirts of with philosopher musician artist etc.
The afternoon featured an origami and floristry workshops and visits to some centres in the region- Te Whare Aroha o Nga Mokopuna, Iron Gate Kindergarten and  Red wood Kindergarten and Day care centre.
That evening saw us back at the Cook Island Centre for a huge feast with entertainment provided. This includeded a local Cook Island group of children and young people performing traditional song and dance, the Wanganui pasifica group performing the early childhood men performing a variety of rehearsed and spontaneous songs. A wonderful fun filled evening had by all.
On Sunday morning Garth Armstrong  from the Wellington Kindergarten Association spoke to us about the Y Men project. Initially eightyoung Maori and Pasifica men from Wainuiomata were given a ten week work experience in the local kindergartens. Many of those involved in the organisation of this project had local passion and whanaunga tanga in mind. They began the project knowing that this was not going to fail that at the very least these guys were going to leave with an enhanced experience of the world. Garth emphasised the importance of wrap around support given to the men on the programme. The men were picked from their homes in the morning, they attended training as part of the programme that included cultural performance, and understanding children. He was able to show us many photos of the men working with the children and talked about some of the wonderful benefits that came out of this project for all. As a result fourmen are doing their training with Te Tari Puna Ora o Aotearoa. The Wellington Kindergarten Association have begun a 2013 project supported by the Todd foundation.
Many thanks to Albert Samuel, his mother Taime Samuel and the Flaxmere Cook Island Community for helping organise and host the 2013 ECmenz summit.
Details

Category: Summits
6th Summit Report
Celebrating the many roles of Men in Early Childhood Education 
From 16th –18 th March 2012 another extraordinary event in education – The 6th Summit on Men in Early childhood: EC-MENZ (Men in Early Childhood Network of New Zealand) was hosted in Whanganui by Born & Raised Pasifika Early Childhood Centre and generously supported by some of the wider Whanganui business community.
Well done Whanganui for hosting such a marvellous conference. Over the weekend we feasted like kings on a fantastic array of food, entertainment, guest speakers, and workshops. The grand opening and all the entertainment was very colourful, following the Pasifika theme of the weekend.
Notable speakers this year included Tagiilima Feleti (Lecturer), Dr Lesieli Tongati'o, Annette Main (Whanganui Mayor), and Chester Borrows  (Minister of Courts, Associate Minister of Justice and Associate Minister of Social Development). This year's keynote speakers Tagiilima Dr Lesieli Tongati'o provided us with thought provoking insight into current issues of Pasifika education.
The workshops gave us the opportunity to learn skills and crafts from making quilts to Ei Katu (head dress), the art of making tapa and fans, upeti (pattern boards), mobiles using natural resources, tracks and puzzles. We enjoyed music with nga rakau (rhythm sticks) and ukelele, and created a fountain with paua, and not forgetting my favourite – the foot massage! Thank you to Born to be Raised whanau and staff for sharing your cultural history and identity with us to take home and share with our children.
From Dunedin to Kaitaia early childhood men and women journeyed to Whanganui to share our stories, to network and support each other as men working in early childhood education. Once again the low rates of male participation in early childhood education in New Zealand was a concern discussed. Those at the ECMENZ AGM acknowledged the work that has taken place to raise the profile of men in the ECE profession and shared some of the success stories happening nationwide. A decision was made that the new committee would create a strategic plan to build on this work.
Only 2% of the early childhood teacher workforce in teacher-led, Government-funded New Zealand ECE services is male. Researchers suggest an increase in numbers of men would add male perspectives to children's education; teach boys that nurturing is a male disposition; encourage more fathers to take part in the education of their young children; provide valuable encounters with safe and caring males for mothers who have had negative experiences of men.
Some feedback….
Awesome. Inspirational. Fun. Educational and entertaining… I am unpacking head ei katu, cushion covers, x-ray film, fans, fabric and more unusual conference taonga. Thanks born and raised pasifika and ECMenz.
What a great weekend, so much food, fun and laughter. Saturday night was a fab and Brilliant loved it all well done Born and raised Pasifica
So, yes we can say Whanganui was well worth the journey.
Till next time, enjoy your amazing teaching positions and keep jamming the vibe of being a man in ECE.
EC-MENZ organised Men's Summit served an important political purpose to generate interest in, and support for, getting more men into teaching and to provide a forum for male teachers and students from across the country to meet. For more about Men in Early Childhood and to become a member look at ecmenz.org and on Facebook.
Yours Adam Buckingham
President Adam Buckingham
Secretary Gerald Jacobson
Treasurer Michael Inch
Vice president Robin Christie
The 2012 committee
Toni Christie, Lyle Champness, Dylan Braithwaite, David  Baxendell, David Sinnott, Phillip Ozane, Lance Cablk, Albert Samuel, Jason McCabe, Peter Visser